Okay, so far one of my most enjoyable projects has been the
Prairie Star pattern
. I saw this in a book at Michael's on Thanksgiving Day and knew I wanted to make it for my parents for Christmas. (See? Learning the lesson. Big projects like this either brings in
bigtime
cash or stays in the family!) I would have bought the whole book for that one pattern, but it was Christmas time and I was broke. Besides, I knew if you dig hard enough on the
internet
, you can find just about anything for free :)
The project itself took me about 26 days, but that was me spending hours upon hours on it each day. I had to, I was on a limited time schedule. The very last bit of it had me up until 5:30 Christmas morning. Each diamond took me around 10 to 15 minutes to make, sometimes shorter or longer depending on how tired or motivated I was. What did I decide? There are in the somewhere in the neighborhood of 225 diamonds in this pattern. Each diamond consists of three rows, the first two rows are made independently and the third row is crocheted into the blanket. This was great for me b/c after making Kelsey's blanket, I got really tired of making piles of blocks and then going back to stitch them together. This project just moves along quite swimmingly if you ask me.
I have one change to the pattern included in the link above:
On the First Motif, Round 1. In the ring, I do the following stitches (ch1,
sc
,
hdc
, dc, tr, ch3, tr, dc,
hdc
,
sc
,
sc
,
hdc
, dc, tr, ch3, tr, dc,
hdc
,
sc
). I added the extra two
sc
on the end of each side b/c the way it's written doesn't allow the next row to have six dc stitches on both sides of the diamond.
And now for my pictures :)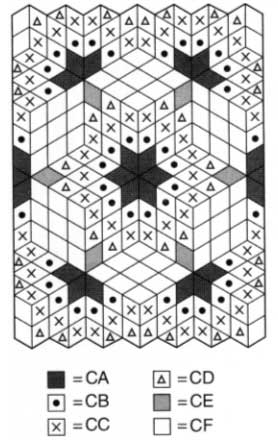 Note about the yarn I used. The pictures were taken on my camera phone, so you can't really tell, but the tips of the star are Cranberry from the Vanna Collection. All of the yarn used was already in my possession at the time I decided to make this afghan. The brown and white were the giant balls of extra cheap
Wal
-mart yarn. The brown was a little scratchy for my taste, but the white actually turned out quite soft and lacy. The gold and both blues were a nice yarn that I got on super blowout clearance from Michael's months before. I was so proud of that purchase, too. Each ball was 50 cents! The problem came into view towards the end when I realized I didn't have enough of the light blue to continue the pattern. After much deliberation and searching Hobby Lobby and Micheal's for something that would work as a substitute, I ended up changing the pattern a bit and I think it turned out alright. My anal retentive side still doesn't like that it doesn't all remain
symmetrical
, but what can you do?